Try Scuba Course-$230.00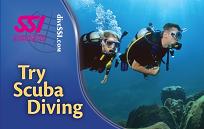 Try Scuba is your chance to get wet and experience what scuba diving is all about. Signing up for a Try Scuba is a great way to decide whether getting a scuba diving certification is right for you. We know that once you come in and try it, you'll love it! Try it in one of two ways. Pick the one that you feel most comfortable doing. SSI Try Scuba — pool experience. Spend one to two hours in a pool getting a taste of the scuba diving experience in the safety of a familiar setting. SSI Try Scuba Diving — confined water experience. Spend three to four hours in a body of water that has good visibility and conditions and get a feel for the excitement of scuba diving. You will have an SSI Instructor as your personal escort and prior to your dive they will provide you with an overview of the proper knowledge and skills required to take your first look at the underwater world.
Open Water Course – From $450.00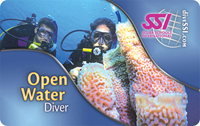 Becoming an SSI Open Water Diver is the best way to start your scuba adventure!
We make sure you are truly comfortable with the skills and equipment you will use.
Getting started is easy!
SSI Training is designed so you can learn the academics at your own pace when it is convenient for you. We will support you by coloured manuals, DVDs and free Online Training offers to make sure you have enough training options. For your pool and open water training your instructor will fit you to your scuba equipment so you will become comfortable in your "second skin." You will get enough practice time to adapt yourself to the underwater environment before you start with your open water training dives.
Once you have completed your initial training you will be a certified SSI Diver.
Prices start from $450.00 this includes 4 open water dives and snorkel or $550.00 with 6 open water dives
SSI certification is recognized world wide so your diving experiences will be limitless. ..Start Your Adventure Today!
Advanced Open Water Diver – $495.00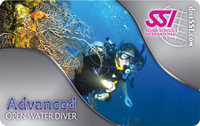 SSI's Advanced Diver rating stands alone in the industry with the highest combination of diving knowledge and experience. No other agency's advanced diver level compares. To earn the certification for Advanced Open Water Diver, you must complete 4 specialty courses and have done a total of 24 dives.
Stress and Rescue Course – $495.00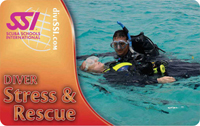 "Be prepared for those unexpected emergencies." Stress is a major contributor to rescue situations and diving accidents. Through this course you will learn accident prevention, as well as how to handle problem situations if they occur. wtc The program is about avoiding, recognizing and solving problems on the surface and underwater. The course runs two – four days in which you will participate in academic and in-water sessions in the pool and in the open water. As a prerequisite for certification you need to have a valid CPR & First Aid certificate. If you want to learn more about DIVER STRESS & RESCUE, you can buy the manual or the DVD even if you don't want to sign up for the course. Course Content: What Is Stress? Stress In Diving:Causes And Prevention Detecting And Dealing With Stress Accident Management Skills Needed To Deal With Panic And Rescues Conditions That Complicate Rescues The primary goal of any SSI Specialty course is to teach you important skills in a fun environment. All courses are taught using home study, short academic sessions, and in-water training.
Dive Quest offer comprehensive courses especially tailored for High School students through the Northern Inland High Schools SCUBA Program. Accommodation for schools visiting from further afield can be arranged on request.
Teachers should note the 'Key Person Training Program' that offers a discounted educational program for supervising staff to enable them to progress to the level of Dive Master. Specific programs are also offered for the Defence Force, designed to provide approved Adventurous Training activities at all levels from Open Water through Advanced and Rescue to Dive Master.
Address: 30 Mullaway Drive Mullaway
NSW 2456
Phone: (02) 6654 1930
Facsimile: (02) 6654 0328
Email: info@divequest.com.au

---